Jun 5:Akihiro Mori, the mayor of Tawaramoto, made a courtesy visit to Mr.Diego Ubico, Chargé d'Affaires to Guatemala in Japan.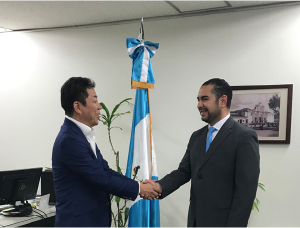 Aug 22:Mayor Akihiro Mori and Mr.Gerardo Aguirre, the president of the Guatemalan Olympic Committee, signed the consensus documents for the HOST TOWN Project.
Aug 24:Staff members from Tawaramoto Town and from the Republic of Guatemala participated in a Yosakoi Festival event in Tokyo Prefecture together.
Aug 30:The Host Town registration was officially completed.
Sep 2:Staff members of Tawaramoto Town were interviewed about the HOST TOWN Project by Guatemalan journalists who were visiting Japan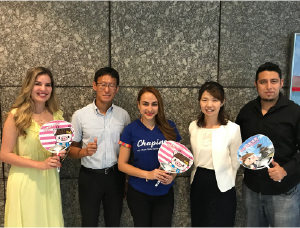 Oct 20:Former Olympic athlete Shizuka Furukawa was invited to a badminton tournament held in Tawaramoto Municipal Central Arena, and participated in promoting the HOST TOWN Exchange Project with Guatemala.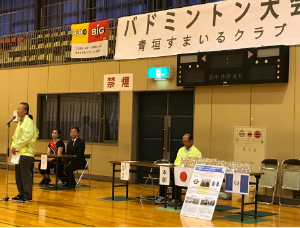 Nov 3-4:Promoting the Host Town exchange with Guatemala to the citizens of Tawaramoto through an exhibition panel during the Tawaramoto Culture Festival.
Nov 13:Mayor Akihiro Mori participated in the Tokyo 2020 Olympic and Paralympic Host Town Mayor's Meeting held in the Prime Minister's office. Greeting Minister Hashimoto.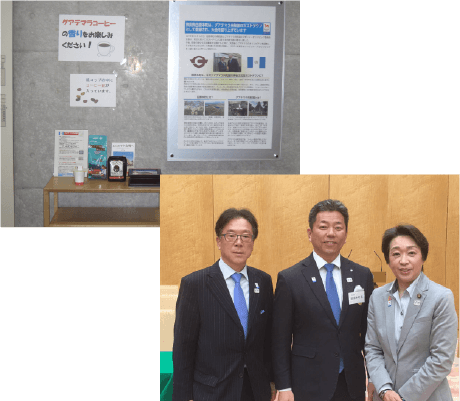 Jan 23-27:Socializing with 5 Guatemalan representatives, including the members of the Guatemalan Olympic Committee, Embassy of Guatemala and coffee enterpriser, who came to visit Tawaramoto.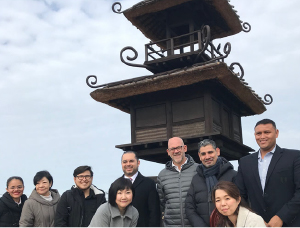 Feb 24:H.E. Mr.Tsuyoshi Yamamoto, the Japanese Ambassador to Japan, paid a visit to Tawaramoto, bringing messages from Guatemalan athletes. Greeting Mayor Akihiro Mori.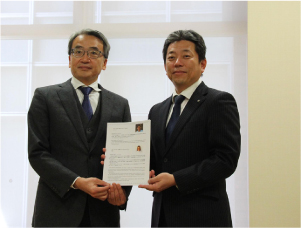 Mar 11:Following the spread of the novel Covid19 virus, Mayor Akihiro Mori posted a video to the Republic of Guatemala.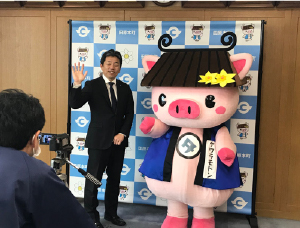 Aug 9:Citizens of Tawaramoto recorded supportive messages to Guatemala.
Aug 25-Sep 30:Tawaramoto collected mask donations to send to Guatemala.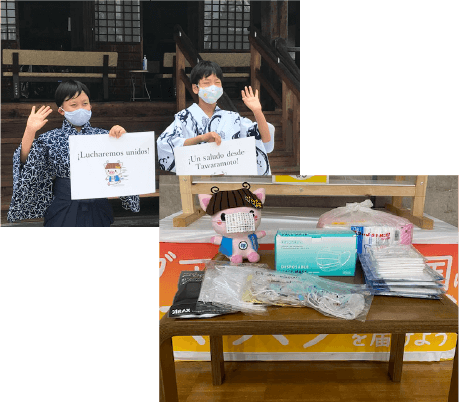 Sep 15:Mayor Akihiro Mori praticipated remotely in a reception to celebrate the Japan-SICA friendship.
Sep 24:Mayor Akihiro Mori presented the director of Kokuho Chuo Hospital, Mr. Sakai, the Guatemalan coffee received as a present after the aforementioned celebratory reception.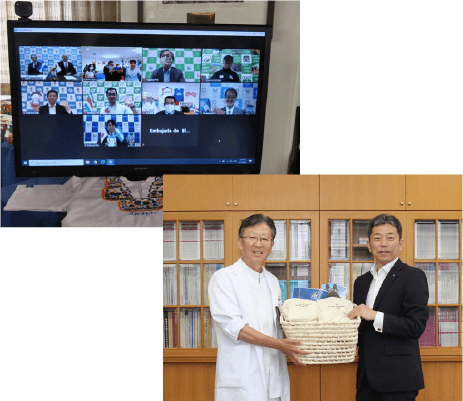 Oct 4:The Tawaramoto Brass Band and Guatemalan musician Marvin López held a remote session.
Oct 13:A sending-off ceremony was held for the masks being sent to Guatemala, with Mayor Akihiro Mori and Mr. Gerardo Aguirre, the president of the Guatemalan Olympic Committee, participating remotely.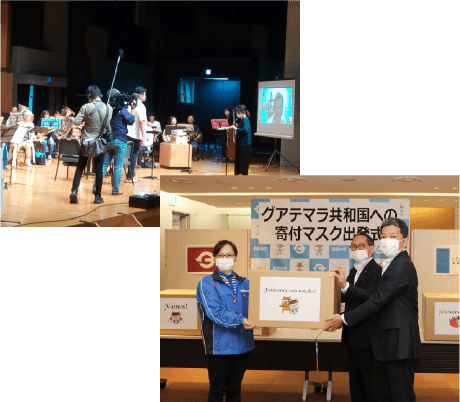 Oct 29:H.E. Mr. Cristóbal Herrera, Ambassador Extraordinary and Plenipotentiary of Guatemala to Japan, visited Tawaramoto, greeted Mayor Akihiro Mori, and visited the Karako Kagi Remains Historical Park and the Karako Kagi Archeological Museum.
Oct 31-Nov 1:An exhibition on the Republic of Guatemala and an overview of the recent cutural exchange was held in both the Tawaramoto Aogaki Lifelong Learning Center and the library for the Tawaramoto Town Culture Festival.